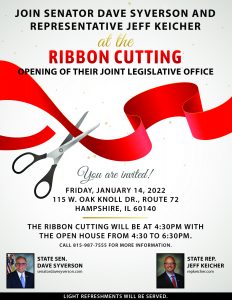 SPRINGFIELD – State Sen. Dave Syverson (R-Cherry Valley) and State Rep. Jeff Keicher (R-Sycamore) are hosting a ribbon-cutting ceremony Jan. 14 to open their new legislative office at 115 W. Oak Knoll Dr., Route 72, in Hampshire.
Local residents are invited to the 4:30 p.m. ceremony, which is followed by an Open House from 4:30 p.m. to 6:30 p.m. Light refreshments will be served. For more information, call 815-987-7555.
"Illinoisans like to see their legislators working together, and opening a joint office with Rep. Keicher meets that goal and will also help save taxpayers' money. With the growth in this part of Kane County, we wanted to make sure we had a local office to better serve and be more convenient for our citizens. In addition, this space will allow us to host regional meetings with leaders as we work on key projects that impact the entire area," Syverson said.
The Hampshire office will have weekly hours, and monthly "Town Hall" meetings are being planned to discuss issues important to the region's residents.
"In addition to our duties in Springfield, Sen. Syverson and I will continue to meet with area residents, community officials, organizations and businesses to help assess local priorities and concerns," Keicher said. "Our office in Hampshire is a place for people to come with their questions and get help with issues they may be dealing with in Springfield. Our staff is there to assist constituents in whatever their concerns are."
Syverson and Keicher say this kind of local interaction with the hard-working northern Illinois residents they serve helps guide their work at the Capitol.
Syverson's legislative e-mail is info@senatordavesyverson.com and his Web site is https://senatordavesyverson.com. Keicher's legislative e-mail is keicher@ilhousegop.org and his Web site is https://repkeicher.com/.