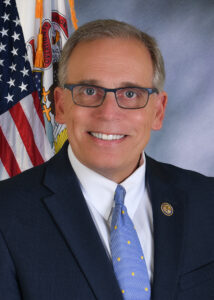 Welcome! Thank you for visiting my legislative website. It is an honor to represent the new 35th State Senate District, which includes all or part of Boone, DeKalb, Kane, McHenry, and Winnebago counties.
I encourage you to check my website regularly for information on how I am working for you to better our state. In an effort to keep this website informative and helpful, I frequently provide updates on important legislation and state issues pending in Springfield. This website is also a good resource to find information on local and state services, benefits and other opportunities available to Illinois residents.
The 103rd General Assembly faces many difficult issues. One of my top priorities is eliminating Illinois' massive budget deficit through reduced spending, more efficient use of your tax dollars, and the creation of an environment where can realize the job and business growth we need to boost our economy.
Please contact my office with any questions, opinions or concerns.  I love hearing from you and enjoy receiving feedback! You may reach my Cherry Valley office at 815-987-7555 or my Springfield office at 217-782-5413. Or you can contact me through this site's contact form.
Sincerely,