District Map and General Information
Stratton Office Building
Section A, Office Q
Springfield, IL  62706
217-782-5413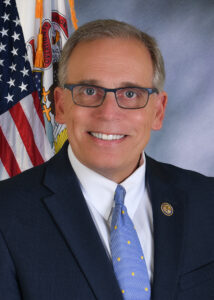 Since joining the Senate in 1993, Dave Syverson has been a reformer, pushing to fix Illinois' broken ways. Every day, Dave puts his values to work as he represents the people of Northern Illinois.
Born in Chicago, Dave was raised and educated in Rockford. Dave and his wife Lori have four children and two grandchildren. Dave comes from a financial background and is currently working with Williams Manny in Rockford. In addition, he is a partner in a number of other business interests. Dave is also involved in many local charitable causes; one near and dear to him is the building of playgrounds in under-served areas and at local schools.
Dave has been widely recognized for his common-sense approach to improving Illinois' jobs climate. He created the Illinois Manufacturing caucus with the goal of bringing more focus on the importance of the manufacturing industry in Illinois.
In addition to his work on economic issues, Dave has sponsored and passed more than 100 pieces of legislation aimed at improving the quality of life for Illinois families, senior citizens, and persons with special needs. Dave sponsored and helped pass Illinois' historic welfare reform legislation, the children's health insurance program, measures to cap property taxes or increase property tax exemptions, sweeping Medicaid and long-term care reforms, pension reform, and the Home Fraud Protection Act, to name just a few.
During the 102nd General Assembly, Dave served as Republican Caucus Whip in the Senate as well as the Republican Spokesman for the Senate Health, Healthcare Access and Availability, and Insurance Committees and is a member on the Senate Behavioral and Mental Health, Executive, and Tourism and Hospitality Committees. His Senate Committees for the 103rd General Assembly will be announced soon. In addition, he serves as Co-Chair of the bipartisan Hospital Transformation Committee and the Medicaid Reform Committee. Dave is also a member of the Government Forecasting and Accountability Commission.
In addition to his Senate obligations, Dave is a member of several area Chambers of Commerce, the Rockford Area Economic Development Council, the Rockford Machine Tool Association, the National Federation of Independent Business, the National Association of Financial Planners, and serves on the Board of Mercyhealth System.
200 S. Wyman, Suite 302
Rockford, IL  61101
815-987-7555
115 W. Oak Knoll Dr., Route 72
Hampshire, IL  60140 
815-987-7555
158 W. State Street, Suite C
Sycamore, IL  60178
815-987-7555