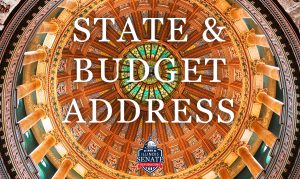 SPRINGFIELD – State Sen. Dave Syverson (R-Cherry Valley) released the following statement after Gov. J. B. Pritzker delivered his Budget Address to a joint session of legislators Feb. 2 via a virtual broadcast from the Old State Capitol.
"The Governor was spinning a grand tale for his listeners about his Administration's accomplishments on behalf of our state, but the reality is people are continuing to leave Illinois. Census figures show that Illinois lost more than 100,000 people just last year and one-year election-year gimmicks will not reverse this trend.
"As to his fiscal claims that the state took in $3.9 billion in increased revenue, we must remember much of that was one-time money from the Federal Government paid to businesses and individuals. That money will not be there next year. Yet the Governor has laid out a budget based on these revenues being ongoing – which they are not. His budget increases base spending by a massive $2.5 billion. This is going to create a financial cliff for taxpayers next year, of course after the election is over. 
"Since taking office the Governor has increased spending more than 20 percent, and he and his political colleagues have passed 24 fee and tax increases costing taxpayers more than $5 billion. The Governor is talking about $1 billion in one-time tax breaks, then sticking the taxpayers with the bill after the election. If the state is doing as well financially as he says and the future is so bright, they why not make the tax cuts permanent?  
"His proposed one-time break on property taxes gives token relief but does not address the long-term problem of home affordability. Property taxes are driving people out of their homes and risking their retirements. Making such a tax break permanent, as recently proposed by Senate Republicans, would give relief to families, especially senior citizens.
"A more reliable scenario, a better reality for our residents, is that we must make Illinois an affordable and safe place for families to live, work, and raise their kids, and create a government in which they trust."
As the legislative budget process gets under way, Syverson says he stands ready to work with his fellow lawmakers to make the tough decisions necessary to pass a balanced budget with structural reforms that will boost the economy and jobs.
Fiscal Year 2023 runs from July 1, 2022, through June 30, 2023.