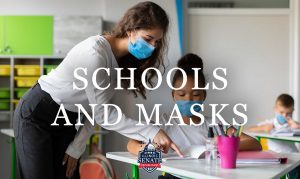 SPRINGFIELD –
State Sen. Dave Syverson (R-Cherry Valley) issued a statement reacting to a plan announced Feb. 9 by Gov. JB Pritzker updating mask mandates in Illinois.
Pritzker said his Administration's statewide indoor mask mandate will be lifted Feb. 28, but the state intends to continue masking requirements in P-12 schools subject to pending litigation which impacts a number of schools.
"With growing public knowledge that masks create more health risks than they prevent, the Governor is finally looking at the data showing his plan needs to be changed. We have seen from all the surrounding states who have optional masking there has been no negative results in outcomes compared to Illinois.
However, the Governor continues to send mixed messages. On one hand, Pritzker says adults can go maskless, but children must continue to wear masks in schools. The mask mandate and isolation programs have had devastating negative health outcomes on children.
This is a clear case of the cure being worse than any disease. Children have fallen two years behind in education, but even more concerning is the terrible isolating effect and impact on their mental health. Since implementing his plan we have seen massive increases in anxiety, depression, substance abuse, suicide, and DCFS calls impacting children. We need to give children their lives back."
Syverson said he has never been in favor of statewide mandates and has always advocated for local control. Illinois is about to enter a third year of Gov. Pritzker ruling unilaterally through Executive Orders and statewide mandates.