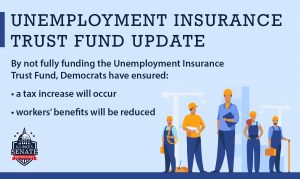 SPRINGFIELD – An ill-advised plan addressing Illinois' unemployment insurance debt, forced through this week by Senate and House Democrats, lays the burden of state government's fiscal irresponsibility at the feet of employers with the guarantee of higher taxes on and cuts in benefits to workers. This will become the largest tax increase on Illinois' employers in history.
State Sen. Dave Syverson (R-Cherry Valley) says Democrat lawmakers continue to shirk their fiscal responsibilities by only paying $2.7 billion of the nearly $5 billion shortfall in the unemployment insurance (UI) trust fund.
"The Pritzker Administration and Majority Party legislators wasted billions of dollars of federal money, and now are saying they can only pay a portion of the UI debt they owe. Ironically, it was the Governor who forced these businesses to close in the first place and now he wants them to pay for what he did. Spending the Federal dollars on pork projects instead of paying off the full UI debt is irresponsible and unfair to Illinois workers," Syverson said. "And it will be the employers and the workers who will pick up the slack. If Democrats leaders had done the responsible thing a year ago, like we asked, Illinois wouldn't be in this mess."
Syverson says lawmakers should have used the $8.1 billion Illinois received from the federal American Rescue Plan Act of 2021 to fully pay its Unemployment Trust Fund debt like other states did. Instead, the Majority Party has spent billions of this federal money on new programs, pork projects, and one-time expenses. Almost every other state used their federal money to pay off the Unemployment Trust Fund debt, but not Illinois.