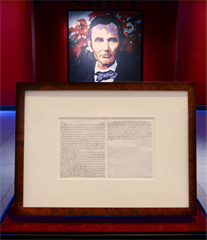 An original edition of the Gettysburg Address will be on display from Nov. 17 to Nov. 28 at the Abraham Lincoln Presidential Library and Museum (ALPLM).
President Abraham Lincoln delivered the Gettysburg Address on Nov. 19, 1863, at the dedication of a national military cemetery in Gettysburg, PA, for the thousands of Union soldiers killed at the Battle of Gettysburg.
Admission to the ALPLM will be free on Nov. 19, the 160th anniversary of Lincoln delivering the speech at Gettysburg. For the full 12 days the Gettysburg Address is on display, visitors also have the option of paying just $5 to see the document without touring the rest of the ALPLM. More information is available at http://www.PresidentLincoln.Illinois.gov/gettysburgaddress.