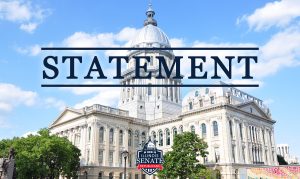 SPRINGFIELD – State Sen. Dave Syverson (R-Rockford) says Gov. JB Pritzker continued his go-it-alone pandemic decision-making Aug. 26 – announcing for the second time this month more mask and vaccine mandates.
Sen. Syverson says it's coming up on 17 months that Gov. Pritzker has been running the state with little to no input by state lawmakers or local officials. The Governor encourages the public to be "all in Illinois," but he refuses to be "all in" with state and local elected officials who better understand their geographic areas and their communities' needs.
"Gov. Pritzker has issued yet another mandate, continuing to rule on nearly every aspect of the COVID-19 pandemic without allowing any ideas or discussion from rank-and-file lawmakers whose job it is to represent Illinoisans," Syverson said. "With his endless Executive Orders, Gov. Pritzker has shut down our state, forced small businesses to close, and put thousands of people out of work. He also failed to provide a functioning state system to help newly unemployed Illinoisans receive the most basic of financial assistance when they needed it most."
Sen. Syverson says he will continue to advocate for local officials having more control over such decisions, as it affects their schools and communities.