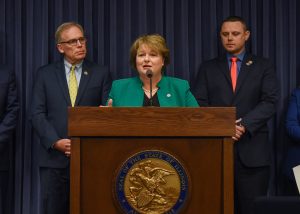 Springfield, IL — State Sen. Dave Syverson (R-Cherry Valley) is cosponsoring legislation with the goal of providing a stronger education system for Illinois' future.
Presented at a press conference Feb. 24 at the Capitol Building, the bills are designed to empower parents by giving them greater access to school curriculums and a voice in statewide educational decisions.
Senate Bill 4180 adds five new positions to the Illinois State Board of Education. Currently, all members of the State Board are appointed by the Governor, meaning the individual members aren't held directly accountable to voters. Those members make far-reaching decisions on school curriculums, health and safety requirements, and how mandates affect schools. The new legislation creates one board member per judicial district, elected by voters and thus directly accountable to families in local districts.
"The Illinois State Board of Education currently is appointed by, and answers to one person – the Governor. The Board needs representatives that are accountable to the voters," Syverson said. "Adding five members elected from five regions of the state will provide that accountable voice."
Another bill, Senate Bill 4179, is designed to bring sunlight to school curriculums. The legislation requires school districts to publicly post on the district's Web site, at least twice per year, the learning materials and curriculums used for student instruction, as well as the policies and procedures for review and approval of the materials and activities.
"Empowering parents is a good thing. They should not have to submit FOIA requests to find out the types of material their children are being taught," Syverson said. "While some school districts are more inclusive, others are not. Senate Bill 4179 makes available the material children are being taught, easily and uniformly to parents regardless of school district."