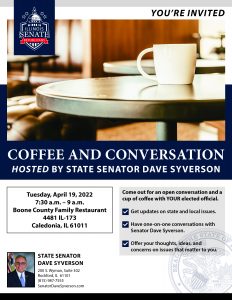 ROCKFORD – State Sen. Dave Syverson (R-Cherry Valley) is hosting a Coffee & Conversation event April 19 at Boone County Family Restaurant located at 4481 Illinois 173 in Caledonia.
Scheduled from 7:30 a.m. to 9:00 a.m., April 19, the Coffee & Conversation event is free and open to the public.
"My Coffee & Conversation provides a time and a location convenient to local residents, allowing them to talk with state and local leaders about what is happening in Springfield and how it affects our communities." Syverson said. "It has been a very busy spring legislative session, condensed into a shorter time frame, with many decisions and changes. Come prepared to ask questions and share your thoughts. We have a lot to talk about."
For more information, contact Lori Yates at lyates@sgop.ilga.gov.