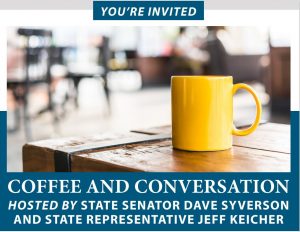 ROCKFORD – State Sen. Dave Syverson (R-Cherry Valley) is hosting Coffee & Conversation April 22 at Sycamore Parkway Family Restaurant, 605 E. State St., in Sycamore.
"Our Coffee & Conversation will give local residents an opportunity to talk one-on-one with state and local leaders about what is happening in Springfield and how it affects our communities." Syverson said. "It was a very busy spring legislative session, condensed into a shorter time period, with many decisions and changes. We have a lot to talk about."
Scheduled from 7:30 a.m. to 9:00 a.m. on April 22, the Coffee & Conversation event is free and open to the public.
For more information, contact Lori Yates at lyates@sgop.ilga.gov.