Return to Capitol to cap state sales tax on fuel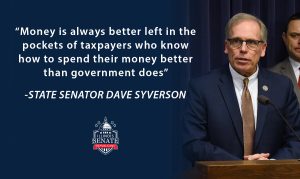 SPRINGFIELD – With gasoline prices at the pump nearing $5 per gallon in many communities and over $5 per gallon in the city of Chicago, State Sen. Dave Syverson (R-Cherry Valley) says Illinois legislators must immediately return to the Capitol and pass legislation to provide real, meaningful relief to consumers.
Syverson is calling on the General Assembly and the Pritzker Administration to immediately take action to cap the state's sales tax on motor fuel at 18 cents per gallon, which is more in line with what consumers were paying last fall before prices started to climb dramatically. Syverson says the General Assembly should reconvene for special session to repeal the Governor's two-cent election-year gimmick and pass Senate Bill 4195, which provides substantially more savings and relief to motorists and prevents state government from receiving a windfall of cash it was never expecting.
"I first presented this proposal two months ago during the spring legislative session, and since then gas prices have continued to skyrocket. Had this measure become law in March, we would already be providing relief for Illinois consumers at the pump, as well as preventing any future sales tax increases," Syverson said. "Instead of providing consideration for SB 4195 this spring, Gov. Pritzker and Democrat legislators had something else in mind, however, and passed a law that will simply delay an automatic two-cent increase to the state's Motor Fuel Tax until after the election in January 2023 instead of in July 2022."
Syverson's plan, adopted by the full Senate Republican Caucus, would save consumers up to 16 cents per gallon or $1 billion in total over the next year. Additionally, the measure would continue to provide adequate funding for Illinois' infrastructure projects.
Illinois is one of just seven states that charge a sales tax on top of the motor fuel tax. While both the state and federal gas taxes are a flat tax, which means the tax does not change with price of fuel, Illinois also charges a sales tax (6.25 percent) on top of the motor fuel tax, which means as gas prices go up, so does the amount of money the state receives.
"A special session is needed to address soaring gas prices and the resulting financial burden on Illinoisans. State government has no business capitalizing on this crisis by gouging millions of dollars in tax revenues it never expected to receive, at the expense of struggling families across the state," Syverson said. "As I said in March, 'Money is always better left in the pockets of taxpayers who know how to spend their money better than government does.'"
According to AAA, the average price for a gallon of gas statewide as of May 12 was $4.80. In Chicago, the average price is even higher — at $5.17 per gallon. Those who drive diesel-fueled vehicles are paying $5.29 per gallon.
Democrat leaders and the Governor are touting the delay in the two-cent increase as tax relief, but Syverson is reminding consumers they will be paying that delayed increase in January 2023, conveniently after the election. This means they will now be hit with two increases in 2023—one in January and another one in July.