SPRINGFIELD – Young adult entrepreneurs will have an easier time starting and operating new businesses, thanks to legislation sponsored by Senate Republicans and signed into law by the Governor.
As the war between Russia and Ukraine continues, the Illinois State Police are donating protective equipment to help with the Ukrainian people's resistance to the invasion.
A recent report has emerged that ranks Illinois in the top three most corrupt states, and the City of Chicago as the most politically corrupt city in the nation.
And nominations for the Senior Illinoisan Hall of Fame will continue to be accepted through June 1.
New law paves way for youth entrepreneurs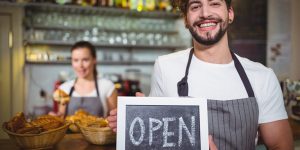 Legislation that paves the way for youth entrepreneurs to start and operate businesses in Illinois was signed into law on May 13. The provisions will help young adults make meaningful economic impacts in their communities by generating jobs and growing local revenues. State Sen. Dave Syverson (R-Rockford) voted for the legislation and says Illinois needs to support innovation and entrepreneurship throughout the state.
Senate Bill 2984 adds "youth entrepreneurs" to the groups that can be assisted at Entrepreneurship Assistance Centers as part of a program that was established in 2021 through the Illinois Department of Commerce and Economic Opportunity (DCEO). Entrepreneurship Assistance Centers offer guidance to young business owners, providing them with knowledge and mentorship, as well as access to capital and resources.
The new law defines "youth entrepreneurs" as persons between the ages of 16 and 29 who want to start a business in Illinois. The bill received unanimous support in the Senate and House of Representatives and takes effect on Jan. 1, 2023.
ISP donates protective equipment to Ukraine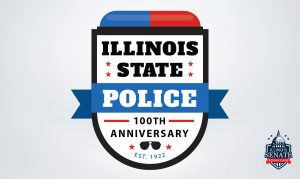 As the conflict between Russia and Ukraine continues, the Illinois State Police (ISP) is doing its part to support its Eastern European ally. ISP is donating more than 3,000 pieces of protective equipment, including body armor, ballistic face shields, and ballistic helmets to help the Ukrainian citizens enduring the Russian invasion. The equipment, which can no longer be used by ISP or any other law enforcement agency within Illinois, will help the Ukrainian people stand up against Russian soldiers.
ISP coordinated the donation with the Illinois National Guard, the United States Department of Homeland Security, the United States Department of Commerce, and the United States Department of State.
Illinois named third-most corrupt state in the nation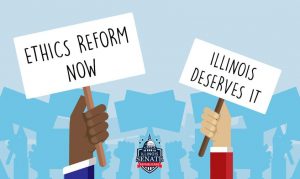 An annual report from the University of Illinois at Chicago has named Illinois as the third-most corrupt state in the nation. The same report lists the City of Chicago as the nation's #1 most corrupt city. It is the third consecutive year that Chicago was ranked as America's most politically corrupt city. The report is based on a formula that compares each area's corruption convictions with its population and is based on public corruption statistics published by the U.S. Department of Justice.
Currently, the highest profile corruption case in Illinois involves former House Speaker Michael Madigan, who has pleaded not guilty to 22 federal corruption counts alleging he used his elected position for personal gain. The case is pending in federal court.
Despite the Madigan indictment and other indictments of high-ranking Illinois politicians, the Senate Ethics Committee did not meet even once during the 2022 session. Instead, leading Democrats chose to block a comprehensive ethics package filed by Senate Republicans. The Senate Republicans' bills were never assigned to a committee. Syverson says ethics reform should have been a top priority during the 2022 session and he will continue pushing for substantive ethics reforms to help clean up state government and restore the public's trust.
Nominations for senior citizen honors accepted through June 1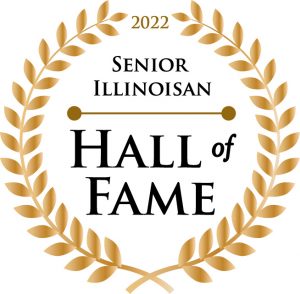 If you know of a senior citizen deserving of special recognition, nominations for this year's Senior Illinoisan Hall of Fame are being accepted through June 1. Nominations are open to adults ages 65 and older who excel in the categories of community service, education, performance and/or graphic arts, and the labor force.
Established in 1994, the Hall of Fame honors senior citizens' accomplishments and contributions, and each year four Illinoisans are inducted into the honorary hall. More information is available at https://www2.illinois.gov/aging/HallofFame.