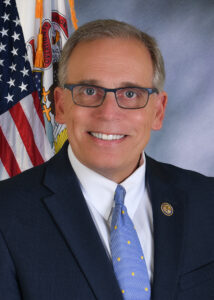 SPRINGFIELD – State Sen. Dave Syverson (R-Cherry Valley) was sworn in as State Senator for the new 35th Senate District during inaugural ceremonies in the historic Old State Capitol in Springfield, as the 103rd General Assembly convened Jan. 11.
Illinois Supreme Court Justice Joy V. Cunningham administered the oath of office to Sen. Syverson and his Senate colleagues. Sen. Syverson has served in the Senate since 1993.
"Illinois is facing some major challenges, but working with the great people of our state, I am committed to moving our state forward," Sen. Syverson said. "My top priorities are reduced spending, more efficient use of taxpayer dollars, and creating an environment that is more jobs friendly. As a state, we cannot tax our way into prosperity, but we can grow our way into prosperity. I will continue to reach across the aisle, as well as work with other area legislators to speak as a single voice in Springfield on behalf of our region."
The new 35th Senate District includes all or part of Boone, DeKalb, Kane, McHenry, and Winnebago counties. Sen. Syverson's offices are located at 200 S. Wyman, Suite 302, Rockford, IL  61101 (815-987-7555); 115 W. Oak Knoll Dr., Route 72, Hampshire, IL  60140 (815-987-7555); and 158 W. State St., Suite C, Sycamore, IL  60178 (815-987-7555).
Sen. Syverson's office address in Springfield is Stratton Office Building, Section A, Office Q, Springfield, IL  62706 (217-782-5413). His legislative Web site is senatordavesyverson.com/. Constituent inquiries can be sent to info@senatordavesyverson.com.