State Sen. Dave Syverson (R-Cherry Valley) and State Rep. Jeff Keicher (R-Sycamore) are asking communities to help once again lift the spirits of residents of long-term care facilities by making them Valentine's Day cards.
"For the third year in a row, we are asking the community to take part in this heart-warming project. Our Valentines for Seniors Card Drive provides Valentine's Day wishes to residents of nursing homes, rehab, and long-term care facilities," Syverson said. "We have seen how meaningful these Valentine's wishes are to the residents of long-term care facilities, who have been more isolated in recent years because of ongoing public health concerns."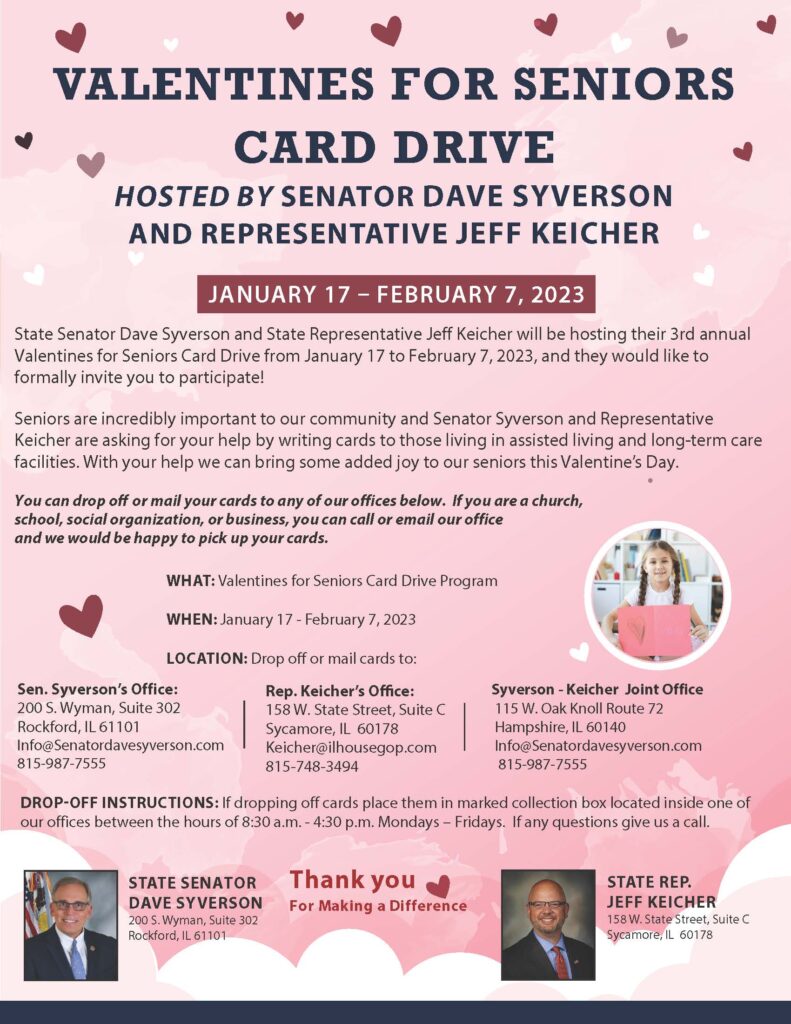 In 2022, local residents contributed more than 5,000 Valentines through the Valentines for Seniors Card Drive. Syverson and Keicher said in 2021, the Valentines for Seniors Card Drive was noted on social media by celebrity businesswoman Martha Stewart, which resulted in hundreds of Valentines being donated to the Card Drive from around the country.
"The Valentines for Seniors Card Drive is about honoring those that came before us, people who worked hard and made sacrifices that contributed to subsequent generations having a better quality of life," Keicher said. "We invite local residents to share our joy and love of community by making Valentines to let residents of long-term care facilities know how much people care about them."
Syverson and Keicher are encouraging community members, churches, schools, businesses, and other groups to participate by dropping off or mailing Valentine's Day cards to their respective legislative offices in Rockford, Sycamore and Hampshire. Once the cards have been collected, they will be delivered to residents of the various long-term care facilities in communities across the region.
Valentine's Day cards will be accepted through Feb. 7. Participants will have the option to either mail their cards to or drop them off at 200 S. Wyman, Suite 302, Rockford, IL 61101 (815-987-7555); 158 W. State Street, Suite C, Sycamore, IL 60178 (815-748-3494) or 115 W. Oak Knoll Dr., Route 72, Hampshire, IL 60140 (815-987-7555).
Contact Sen. Syverson's office at 815-987-7555 or Rep. Keicher's office at 815-748-3494 for more information, to indicate interest in participating, or to arrange pick-up of cards.