Illinois Democrats want to expand $1.1 billion program for undocumented immigrant healthcare
SPRINGFIELD – With the federal Title 42 policy expiring May 11 and thousands of people amassing at the United States border with Mexico, State Sen. Dave Syverson (R-Cherry Valley) fears that costs for a state healthcare program for undocumented immigrants will continue to spiral dangerously out of control.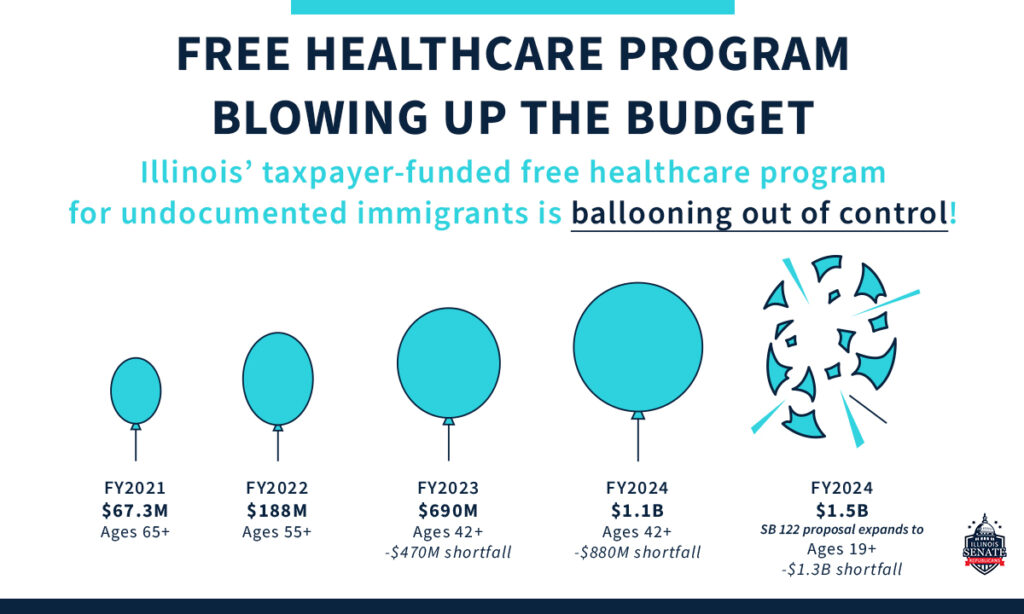 Illinois' Health Benefits for Immigrant Seniors program was implemented in 2020 to provide benefits to undocumented immigrants ages 65 and older. It has since been incrementally expanded to include individuals ages 42 and older, and renamed Health Benefits for Immigrant Adults.
Because Democratic lawmakers relied on an estimate provided by advocates that grossly underestimated the number of people who would enroll – and failed to verify that it would be accurate – the program exceeded its yearly appropriation in the first month it was in place. And Democratic lawmakers have expanded the program so that next year it is expected to cost taxpayers $1.1 billion.
"This program has ballooned out of control, and we can expect this number to continue to grow as more non-citizens learn about the program," Syverson said.
Earlier this year, the Governor's Administration estimated 120,000 undocumented individuals 42 and older will be covered by this program during next fiscal year. On May 3, Democratic lawmakers suggested expanding the program to undocumented immigrants ages 19 and older – bringing the total cost of the program to $1.5 billion.
As pandemic-era funding dries up and the economy slows down, the 35th District Senator is urging Democratic lawmakers to consider budgetary pressures Illinois faces and be responsible stewards of taxpayer dollars. While Illinois is poised to spend more than a billion dollars on non-citizen healthcare, the state is underfunding programs for the state's most vulnerable citizens. Illinois ranks 47th out of 50 states in funding community-based services for people with disabilities.
"Programs to help persons with developmental disabilities – whether in services, housing, or jobs programs – have been shortchanged for years. Our focus as a state should be on taking care of our own citizens, especially the most vulnerable, before opening our doors to undocumented individuals from other countries and other states," Syverson said. "It is time for the Majority Party to take ownership of this fiscal problem and rein it in. They need to focus on making good on their promises to Illinois citizens and taxpayers."