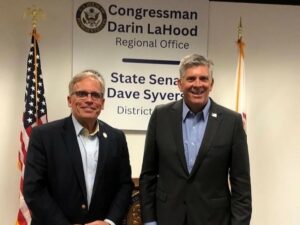 Washington, D.C. – Congressman Darin LaHood (IL-16) and State Senator Dave Syverson (35th Senate District) announced that they have opened a district office in Rockford to support constituent services and outreach in northern Illinois.

"One of my top priorities as a Member of Congress is providing high-quality constituent services for 16th District residents," said Rep. LaHood. "The 16th District Constituent Service Office in Winnebago County will provide northern Illinois residents with a key resource to receive assistance with the federal government and support our outreach efforts. I am proud to partner with State Senator Syverson to ensure that our constituents get the support they need in Washington and Springfield."

"By partnering with Congressman LaHood, this new centralized office will make it more convenient for the constituents we serve to receive help whether they are dealing with a state or federal issue. Another benefit of having a shared office is it saves taxpayer dollars," said State Senator Syverson. 

The LaHood-Syverson Rockford Constituent Service Office is located at 527 Colman Center Drive, Rockford, IL 61108. The office will be fully staffed and open from 9:00 am to 5:00 pm Monday through Friday. Appointments are preferred for office meetings and visits.

Congressman LaHood and State Senator Syverson also announced today that they will host an open house at the office on Thursday, June 1. Details will be provided at a later date.